Val Harney ~ Groups 1, 2, 3 [S] Tutor Judge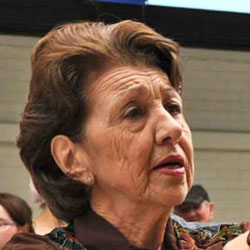 8 Cooper Rd
Northgate, Qld 4013
Prefix: Meisha.
Breeds: Siamese and Oriental
I have been an All Shorthair / Semi longhair judge since 1976 and an All longhair / semi Longhair since 1987 making me an All–Breeds Judge in 1987. Throughout each year since attaining my licences, I have travelled throughout Australia and in several overseas locations including Malaysia, Japan and the United States. I am also on the All Breeds Guest Judges Panel of ACFA USA.
I have held many positions on committees throughout the years, including Minute's Secretary, Secretary and Chairperson. I have also been secretary and vice president of various clubs and until recently, I have show–managed several shows each year.
Hobbies:
Attending cat shows, meeting cat lovers, cross stitching, sewing. I just adore being with Cat People talking "Cat" and sharing the world wide love of the cat with all who care to listen.
The introduction of the 'Australian Open Judging' method brought great joy to me as a judge because it allowed exhibitors, show personnel and the general public to share the judging of the cat.