SEKI Siamese And Orientals - Donna Evans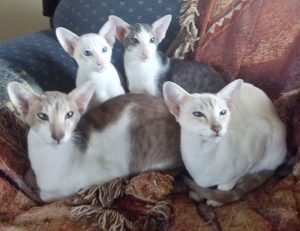 Seki Cattery has been breeding in Canberra since 1982 and has now moved to Adare Qld.
Kittens are chosen for Temperament first and then colour and type. Donna and Bruce welcome you to come and view the kittens once they are weaned. Kittens receive their first vaccinations at around 12 weeks of age, are desexed and microchipped a week later and can leave to go to their new home at 13 weeks.
We ask that if you would like to purchase one that you give us a deposit. For information about kitten availability please Phone (07) 5462 3292.