Chris Merritt ~ Groups 1, 2, 3 [S] Tutor Judge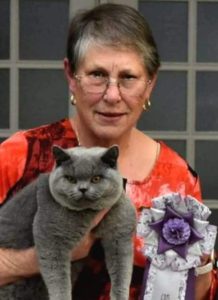 P.O Box 9050
Wilsonton, Qld 4350
After breedimg the beautiful Burmese & Mandalay under the JOVELLES prefix, this program has just recently been concluded with all lovely cats desexed and rehomed. We still, however, will continue to  breed British Shorthairs under the CARINYA prefix. Past breeds include Persian and Exotic Shorthair.
I began breeding pedigreed cats in Townsville, North Queensland, approximately 45 years ago under the Kavadh prefix. At that stage, I bred Persians in several colours and patterns but particularly specialised in "colour–bred" cream, blue and bluecream Persians with considerable success. A few years later, with my husband Terry, I began to breed British S/H under the Carinya prefix and was very successful on the show bench. From there, we embarked on a program to breed Exotic S/H's experimentally. We continued to breed British and Exotics until we moved to Toowoomba in 1994 when I was planning to retire from breeding cats. This is where the love affair with Burmese began. We continue to breed Burmese under the Jovelles prefix with our daughter Carolynn and a few years back, began to breed Mandalay as well. We also continue to breed British under the Carinya prefix.
JUDGING:
I became a Group 1 Judge in 1986 and an All–Breeds judge in 1992. I have judged throughout Australia and New Zealand on many occasions. As well as judging in South Africa, I have also been fortunate to have many opportunities to judge as a CFA Guest Judge throughout Asia over the last few years. I am also on the All Breeds Guest Judges Panel of ACFA USA.
I am an All–Breeds Tutor Judge with Cats Queensland Inc. and am on the CCC of A Tutor Judge's panel. I am currently the CCC of A President working with a great team of people. I am also on the Management Committee of CQ Inc. and also hold the positions of Honorary Registrar & Membership Officer. For the past few years, I have held the position of Vice President of the Exotic Cat Club of Queensland Inc. and I am also member of the Curly Coats Cat Club of Queensland Inc.
More personally, I am married and have 3 grown children. Two are married and there are currently 11 grandchildren and 1 great grand-daughter. I am a retired primary school teacher and beside my family and cats, I love going to the movies, reading, cooking and gardening. With Terry, we also operate a small boarding cattery on our 6 acre property in beautiful Toowoomba.