LILBITZ Munchkins - Deb Christensen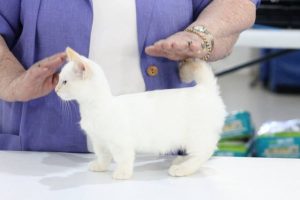 Lil Bitz is located west of Brisbane – Queensland. Our kittens are raised in our home and interact with our family so they are well socialised and have wonderful temperaments. Kittens will be ready for their new homes at around 12 weeks, depending on their development & social skills. All our fur babies are desexed, microchipped and full vaccinated before going to their new homes.
Munchkins are the Dachshund of the cat world they are playful, outgoing and it is said that they maintain their kitten-like personality well into adulthood. It is said that Munchkins are easily trainable. They are social, affectionate and get along well with people, including children and other animals and make a fantastic family pet. Despite their small stature, the Munchkin can run and jump just like any other cat. They have a similar movement to ferrets.